Day 7
Natitingou
Mani Tese's headquarters in Natitingou is located in a quieter suburb, where you can enjoy a view of the city that fades into the hills of Atakora.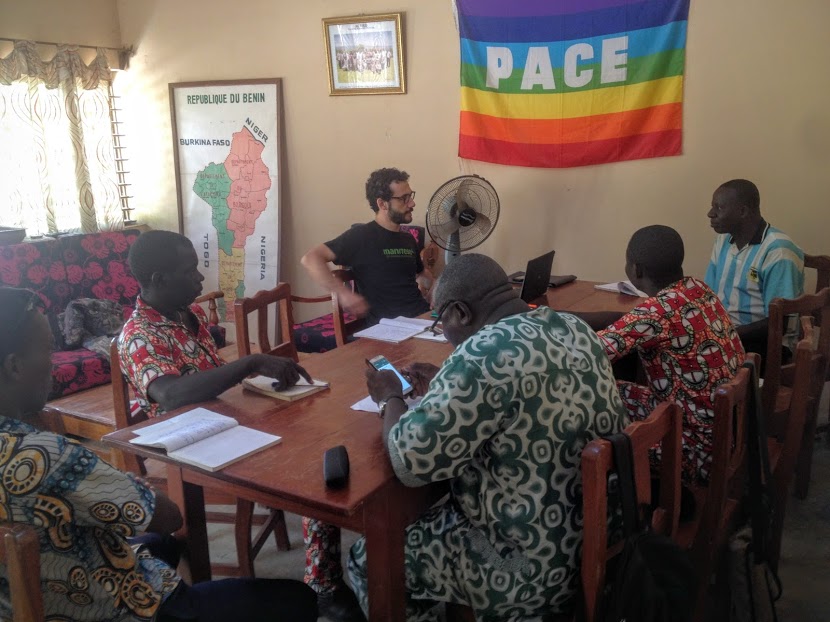 Today is a meeting day. In the presence of all the staff we discuss the first results of the mission: the three municipalities involved in the project show different needs according to the strength of the groups and the proximity of the large food markets in the region.
The more consolidated groups in the municipality of Toucountouna are now autonomous and the role of Louis, the animator of the area, is above all to support the younger cooperatives.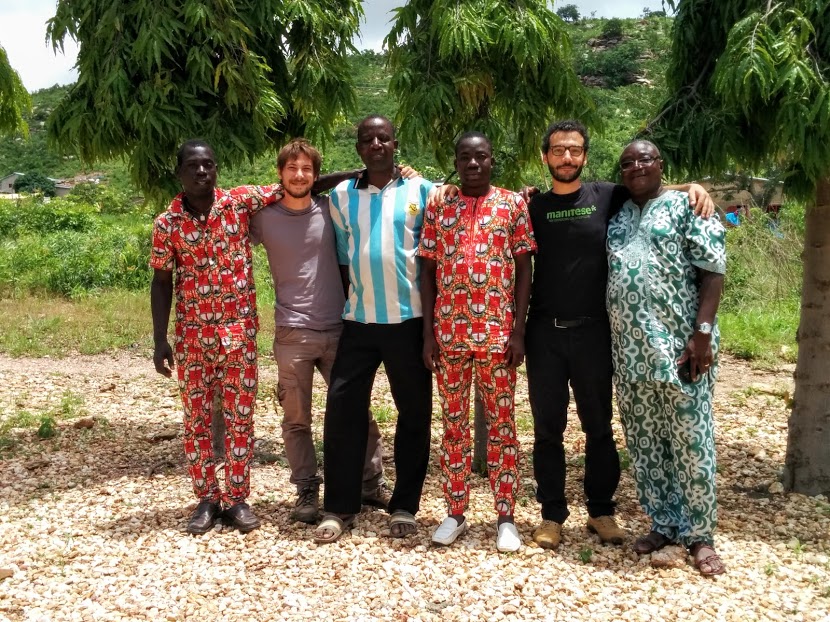 South of Natitingou, however, the situation is more difficult because all the groups are newly formed and are generally less cohesive. Achille Tepa, for over 20 years the representative of Mani Tese in Benin, explains that this is partly due to the "individualistic" tradition of the Tammari society and partly to the negative influence that a certain politics has had in the area: during the election campaigns, in fact, it is common practice to pay people to attend meetings and this makes it more difficult to organize non-profit meetings.
In Kouande, on the other hand, the problem of distance from the big markets is felt more: the tracks are often in poor condition and, due to transport costs, the gari is sold at a price even 30% lower than in other areas.
Day 8
Kouba
Today is the last day of work in the villages: in Kouba we visit the cassava fields that are located outside the center of the village, where the land is more fertile.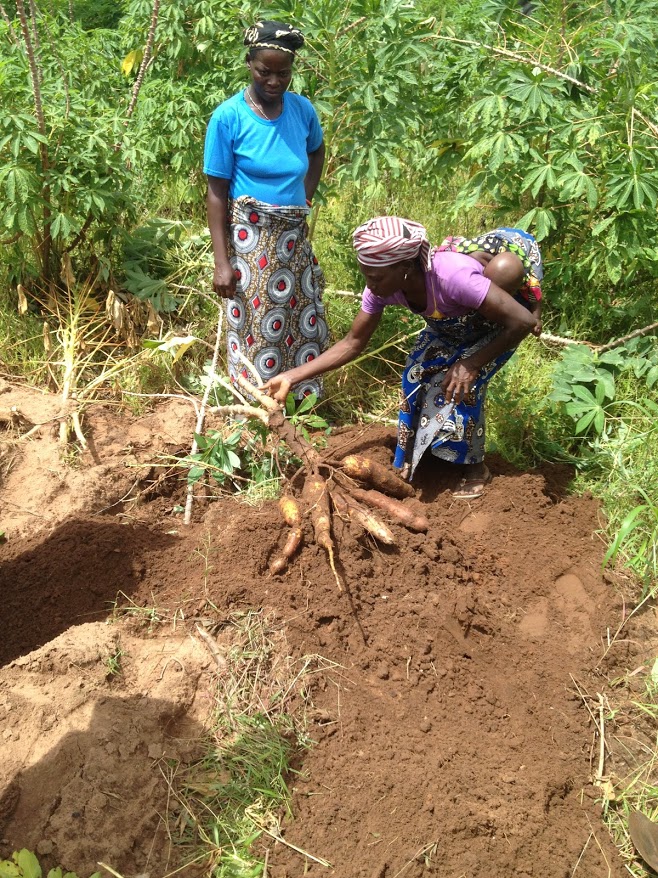 The first thing that strikes you is the long distance, about 3 km, that women have to travel every time they go to the fields to work. Only a small part of the journey can be covered by motor vehicles and therefore women must carry the cassava with bowls carried on their heads. In one day, a woman unearths about 1000 roots which must be transported to the village before evening. It is a very heavy work that if it were not done in a group it would be impossible. This experience is undoubtedly the most important among those made in these days and allows us to understand more deeply the value of work and the strength of these groups of women.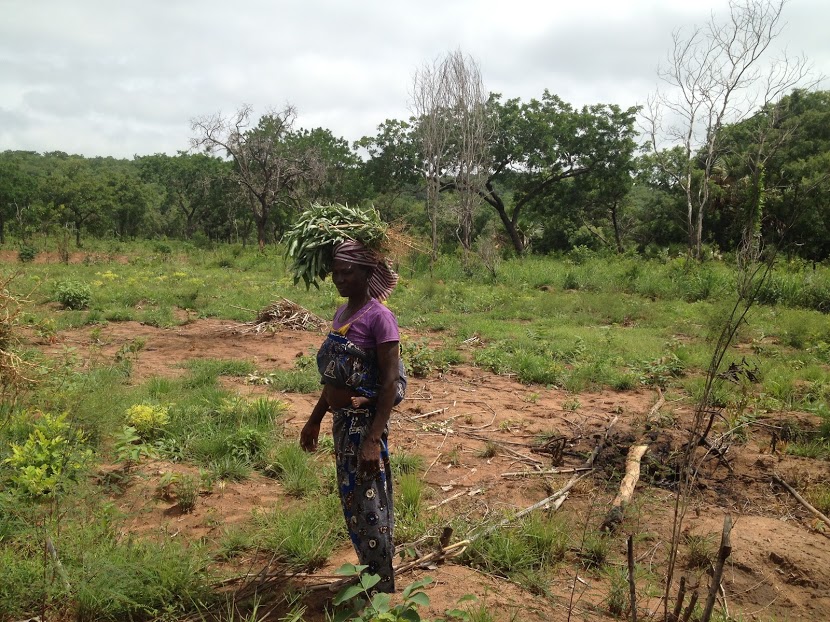 One last image that says a lot about our stereotypes about nature in Africa and the diversity of relationships with nature. On the way to Kouba, Dramane stops the car because in the middle of the track there is a chameleon that is trying to cross. While we are waiting, smiling at the curious pace of the animal, a man on a motorbike, with a load of wood, joins us: "Can I go on?" he says and we nod, explaining the reason for our stop.
The man greets, leaves and crushes the chameleon.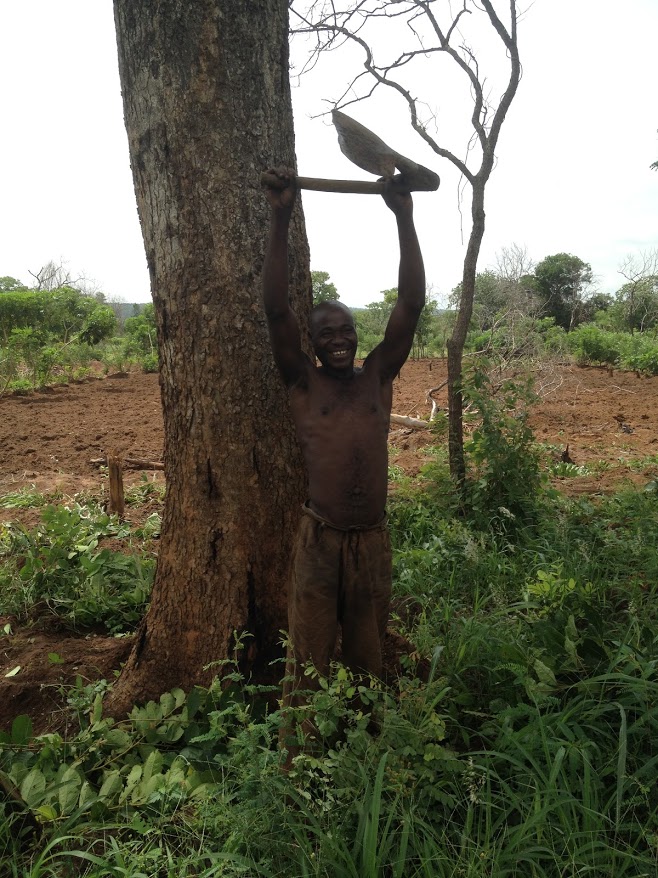 (Diary from Benin, Days 7-8 – Curated by Valerio Bini, Mani Tese's President, and Paolo Santagostini, researcher in geography and doctoral student at the University of Paris VIII)