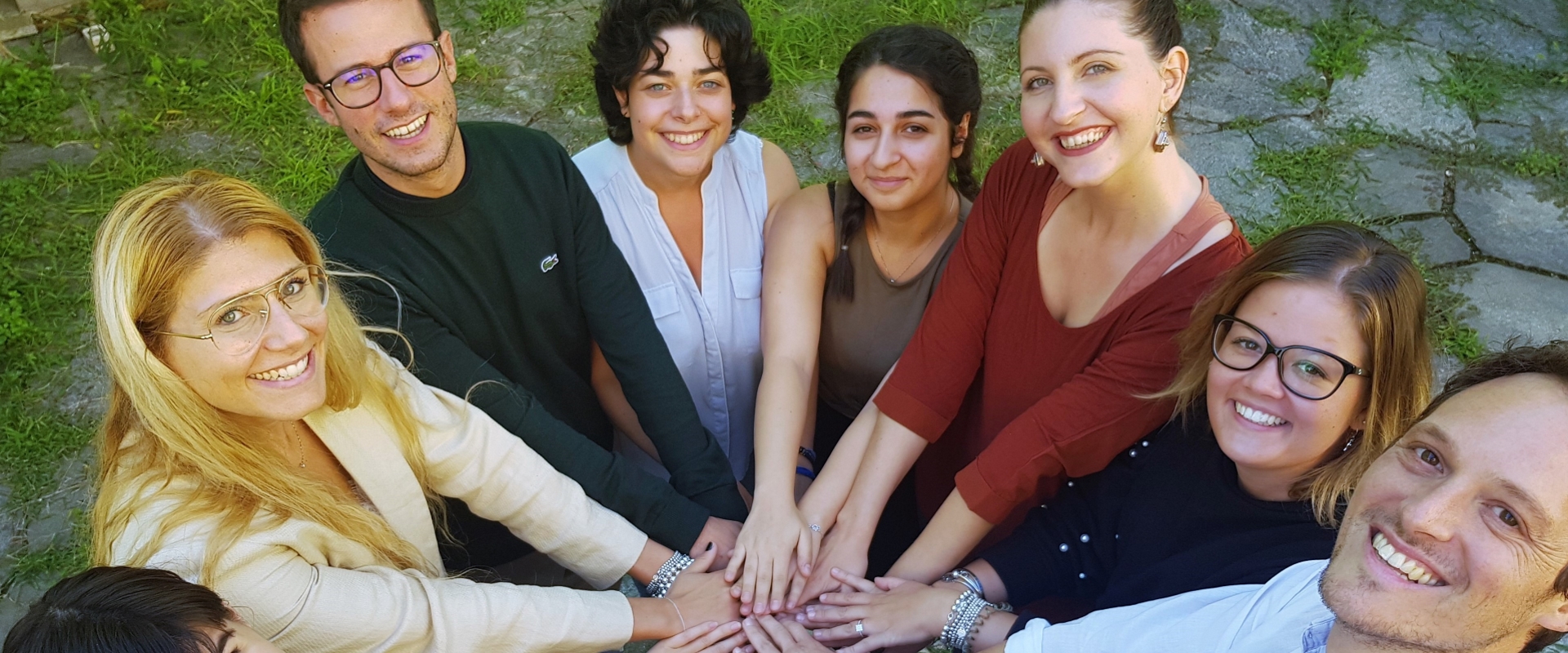 Civil service with Mani Tese
Available locations: Milano, Bulciago (LC), Gorgonzola (MI), Padova, Treviso, Finale Emilia (MO) and Faenza (RA)
DO CIVIL SERVICE WITH MANI TESE

!
C

H

AN

G

E THE PRESENT AND REWRITE THE FUTURE OF THE PLANET.
The volunteers doing Civil Service are citizens who choose for a year to increase their education and professionalism, while giving lend a hand to their community. 
The Civil Service takes place in organizations or institutions that develop specific projects in environment, culture, education, personal services or civil protection sectors, accredited to the National Register of Civil Service Bodies or to one of the regional registers.
A nice greeting from 2019/2020 Civil Service's volunteers
WHO CAN APPLY FOR CIVIL SERVICE?
Young people who meet the following requirements can apply for civil service:  
Italian citizenship, or one of the Member States of the European Union, or a non-EU country, provided that 

he/she

 is legally resident in 

Italy;

 

 

n

eed to be minimum 18 years old and not more than 28 years (28 years and 364 days) on the date of submission of the 

application.
Young people who have the following requirements CANNOT apply for civil service:  
belong to military and police 

forces;

 

 

t

hey already work or have provided civil service as volunteers in accordance with Law No. 64 of 2001, or have ceased service before the due 

date;

h

ave current working relationships or paid collaborations, of any nature, with the institution that carries out the project, or that have had such relationships in the previous year for more than three 

months;

r

eceived a sentence of imprisonment, although not final, of more than one year for non-negligent crime or even a lesser sentence of imprisonment for a crime against the person.
The duration of the service for Mani Tese is 12 months for a total of 1145 hours (around 25 hours/week).  
Volunteers on civil service receive a monthly allowance of €439.50.
Civil Service also includes:  
at

 

least

 80 hours of 

education

 (

but

 in 

our

 projects the hours are 117)

 

certificate of 

participation

 to the 

Civil

 Service

 

recognition

 and 

valorization

 of the skills 

obtained

 

in public contests, 

evaluation

 of the 

experience

 

as

 a service 

given

 to Public Administration

 

recognition

 of the service in social insurance 

law

 

20 days of paid 

leave;

 

 

other

 extra 

leave

s

 on special 

occasions

 

such

 

as

 

university

 

exam

, 

blood

 

donation

, etc.

 

h

ealth coverage guaranteed by the National Health 

Service;

 

 

s

ickness and accident insurance due to service, guaranteed by the 

UNSC;

 

 

t

he first 15 days of any illness shall be considered valid as a service performed.
IT IS POSSIBLE TO PERFORM CIVIL SERVICE WITH MANI TESE AT THE OFFICES IN MILANO, BULCIAGO (LC), GORGONZOLA (MI), PADOVA, TREVISO, FINALE EMILIA (MO) AND FAENZA (RA).  
THE CIVIL SERVICE WILL ENABLE MANI TESE TO REALIZE THE FOLLOWING PROJECTS:
RE-USE AND GOOD PRACTICES FOR SUSTAINABLE DEVELOPMENT
Number of places: 4
Seat in Bulciago (LC): 1
Seat in Gorgonzola (MI): 2
Seat in Milano: 1
GENERATION 2030! CHANGING THE PRESENT TO BUILD A FUTURE OF SUSTAINABILITY AND JUSTICE
Number of places: 8
Seat in Milano: 8
ACTIVE CITIZENSHIP AND SUSTAINABLE DEVELOPMENT TO REWRITE THE FUTURE BY CHANGING THE PRESENT!  
Number of places: 3
Seat in Padova: 2
Seat in Treviso: 1
A CHANGE OF PACE FOR A LIGHTER AND MORE SUSTAINABLE FUTURE
Number of places: 4
Seat in Faenza (RA): 2
Seat in Finale Emilia (MO): 2
For more information about Mani Tese Civil Service projects, please contact us.
If you want to know the specific activities of the different seats of Civil Service you can refer to these addresses: 

| | | | |
| --- | --- | --- | --- |
| Mani Tese's seat in Milano (MI) | Piazza Gambara 7/9 20146 Milano | serviziocivile@manitese.it | 02 4075165 |
| Mani Tese's seat in Bulciago (LC) | Via Cesare Cantù 66 23892 Bulciago | bulciago@manitese.it figinidario@virgilio.it dellorof@tin.it | 320 6198000 - 339 5074834 |
| Mani Tese's seat in Gorgonzola (MI) | Via Lazzaretto 50 20064 Gorgonzola (MI) | gorgonzola@manitese.it fabio.salomini@libero.it | 02 95302460 - 340 9708611 |
| Mani Tese's seat in Padova (PD) | via Ognissanti 37 35129 Padova Via Arrigoni, 51 35020 Peraga di Vigonza | padova@manitese.it caleba@manitese.it | 04 9725889 - 04 98073836 - 320 6197998 |
| Mani Tese's seat in Treviso (TV) | Via Isonzo 10 31100 Treviso | treviso@manitese.it | 04 22436348 - 373 7463996 |
| Mani Tese's seat in Faenza (RA) | Via Maioliche 24 48018 Faenza (RA) | faenza@manitese.it patti.bozza@gmail.com | 3338733787 |
| Mani Tese's seat in Finale Emilia (MO) | Via Per Camposanto 7 A 41034 Finale Emilia (MO) | associazione@manitesefinale.it gaialuca@libero.it | 05 35760270 - 388 3618997 |
Universal Civil Service
Contact us and we will reply you as soon as possible