I met Elisabeth on June 10th. I will always remember that date because it was the day of my first field trip. The administrative work is needed, but the contact with the people who carry out and live the project activities every day is what I like most about my job and it is what motivates me.
Elisabeth is the president of the "Beog Neere" cooperative in Kindi, in Boulkiemdé. She is an educated woman, fluent in French and with whom it was therefore easy to relate.
That day, Elisabeth took me on a tour of the collective organizations in the area, introducing me to all those realities that I had not had the opportunity to know yet, having recently arrived in the country. I remember that I really liked her dynamism and the direct and open way in which she related to me, without too many filters or formalities.
As the last stop on our itinerary, Elisabeth took me to meet her association. But she didn't just let me find the display of all the products she and the other women transformed (neem oil, soap, soumbala, attieké, cornmeal, placali, vegetable preserves, cous cous, rice, etc.), she also involved me directly in the activity, making me feel firsthand what it meant to do a certain type of work.
Thanks to Elisabeth, I was able to transform the cassava into cous cous (attieké) and it was an important moment, because with this gesture she did two beautiful things: she put everyone on the same level and showed me concretely what the project had helped her and still could help in the development of her association.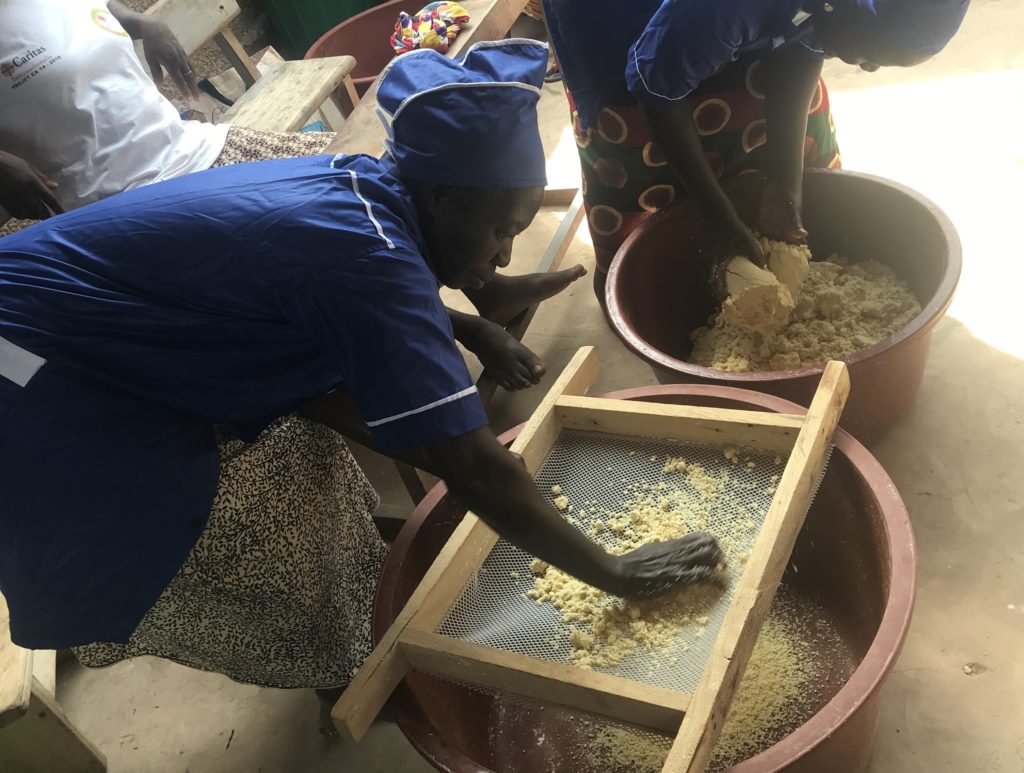 Today, months later, Elisabeth's Beog Néere cooperative was found to be among the 20 companies selected by the project "Innovative social enterprises and migrants participation for social inclusion in Burkina Faso" – co-financed by the Italian Agency for Development Cooperation and Maria Enrica Foundation – to receive concrete help for the development and growth of their entrepreneurial reality.
So I had a chat with her and today I want to tell you her story.
Elisabeth lives and works in the municipality of Kindi, a few kilometers from Koudougou, in Burkina Faso. She is smart, educated and gets along with the sale of her processed products, but in her head an adage resounds "seuls on va plus vite, ensemble on va plus loin" (alone we go faster, but together we go further).
For this reason, 7 years ago, Elisabeth decided to roll up her sleeves and bring together all the willingness women of her village who wanted to work and grow together. There were transformers of néré, attieké, soap… Each had her own specificity which, according to Elisabeth, had to be preserved and enhanced so that the knowledge of each one was not lost but, on the contrary, shared as wealth.
Thus "Beog Néere" was born, which translated from mooré means "wonderful future": a message of hope for all 15 women who are part of it today.
Now, with the support of Mani Tese, these women are modernizing their attieké production techniques, also taking care of the packaging and branding of their products.
Elisabeth's dream is that in 5 years Mani Tese will be able to return to them and find an autonomous, independent and sustainable company, with the Beog Néere brand recognized throughout the country. "If they help you wash your back, you need to know how to wash your face yourself!" Elizabeth literally commented.
Being a woman and being an entrepreneur is never easy and Burkina Faso is no exception, but Elisabeth is strong, she has a lot of inventiveness and good will and that is why she managed to make her association grow a lot. We are sure that she will still be able to do great things!