Joel Kiprotich is a beekeeper from Baringo County, Kenya. Today his life is full of hope, but his childhood was very difficult.
At the age of three he was diagnosed with an eye problem and although the infection was cured, he could no longer see out of that eye. After two years, following a serious accident, Joel lost his second eye, leaving him completely blind.
Although dependent on his parents to help him walk and perform daily tasks, Joel was always a determined boy and, as he grew up, attempted to become self-sufficient by working in fruit farming. Unfortunately, drought, which is recurrent in the area, caused the business to fail.
Joel, then, decided to experiment with beekeeping, which his father already practiced and which can be managed with less physical effort than farming and fruit farming. He started with five hives and, after an initial bountiful harvest, bought himself another hive.
Joel's determination pushed us to involve him in the project "Agri-change: small enterprises big opportunities. Development of agri-food chains in the Molo river basin", co-financed by the Italian Agency for Development Cooperation. Thanks to the project, he was provided with three new hives and modern equipment for the collection and care of beehives. Joel was also able to get in touch with the Rabai honey refinery, which the same project realized during the first year.
The last time we visited, Joel had a total of twenty hives and production was going so well that with the proceeds he can now help his family and also make small investments in his business.
Beekeeping can be said to have changed Joel's life, and he now has a wife, a son, and nurtures a dream of becoming a great beekeeper.
"I thank Mani Tese for supporting me – says Joel – in most cases we people with disabilities are invisible. Now I hope to improve my life and show everyone that disability is not inability!"
Below are some photos of Joel:
If you are born, grow up and live in a context where the woman is considered inferior to the man, at the first slap you won't say anything, because it will seem normal, you will feel you deserved it, it will seem right. If you are born, grow up and live in such a context, when your husband comes home at night and shouts that dinner isn't ready yet and there is dust in the corner, you will feel guilty for being late to collect tons of wood in the woods, carrying it on your shoulders. You'll agree with him and apologize. If you are born, raised and live in such a context and no one tells you, you simply cannot know that this is not okay, not normal at all and that you have rights.
That's why in the last two months, with the project "Social and rights promotion of women and children for the improvement of health and civil status services", co-financed by the European Union under the "Population" program, we have trained civil society organizations from 7 provinces in 3 regions of Burkina Faso on what gender-based violence is, how to recognize its signs, what are the tools for protection and how to accompany victims to get the psychological and legal support they need.
The training, aimed at people, both men and women, with a certain level of education and open-mindedness in order to empower them within their communities, started from a very simple question: what is a purely male and a purely female task? The answers were the ones we can imagine: "the woman has to take care of the children", "the woman has to cook", "the woman has to take care of the house", "the man works".
The trainer then asked the men in attendance if it had ever occurred to them to sweep the yard or wash dishes. Most of them answered yes. She then asked them to stand up and show themselves properly: indeed, they did not appear to have suffered any permanent damage. Laughter in the room. It was then shown visually, with the help of signs, the number of tasks and duties that traditionally fall to the woman and those that are instead attributed to the man. They were read out and each was assigned a realistic time frame. At the end there was silence in the room. And at that point, faced with a slight embarrassment but above all a greater understanding, we began to talk about violence, which is wrong regardless of cultural context and habits, which must be denounced and whose victims must be identified and supported.
The participants accepted the challenge: they confronted themselves with very raw and hard cases from their communities (we're talking about child brides, 11 year old girls impregnated by a family member and then removed from the family as witches, female genital mutilation and much more) and committed themselves to be a reference point, both to raise awareness among people in their area, and to take charge of identifying and supporting victims with the tools that the law provides.
In the coming months, we will be organizing theater sessions to get right to the heart of communities and spread the message, so that the same potential victims know where to turn if they need help. And we hope that change starts here, with the realization that NO!, it's not fair.
Below are some photos of the formation: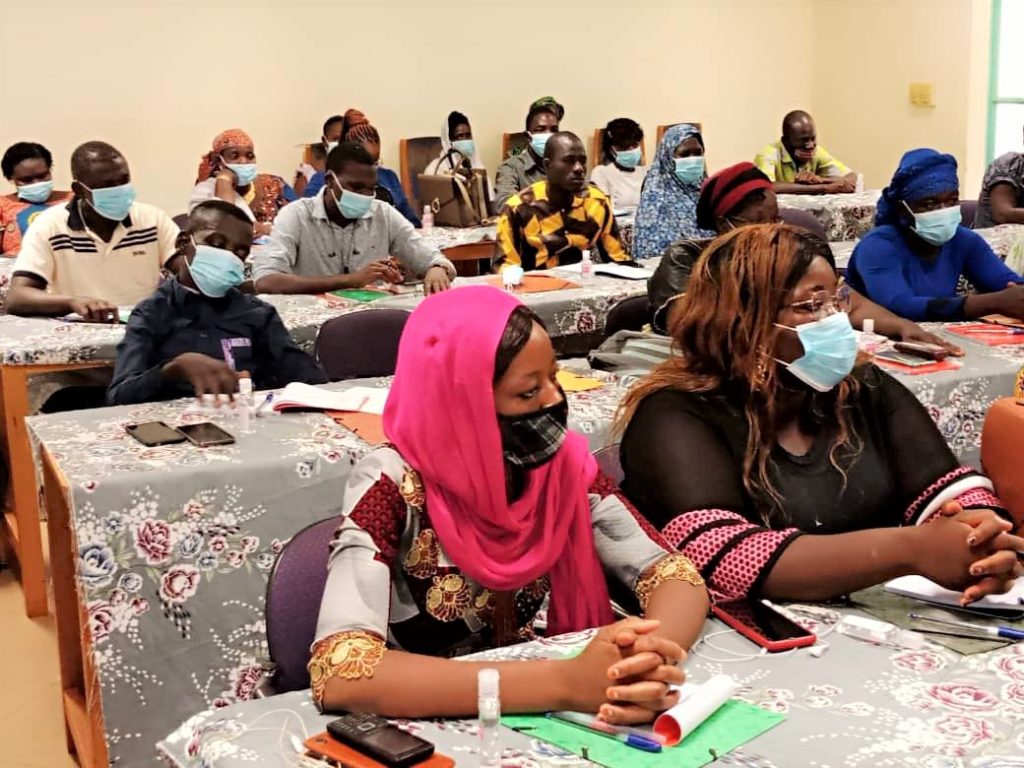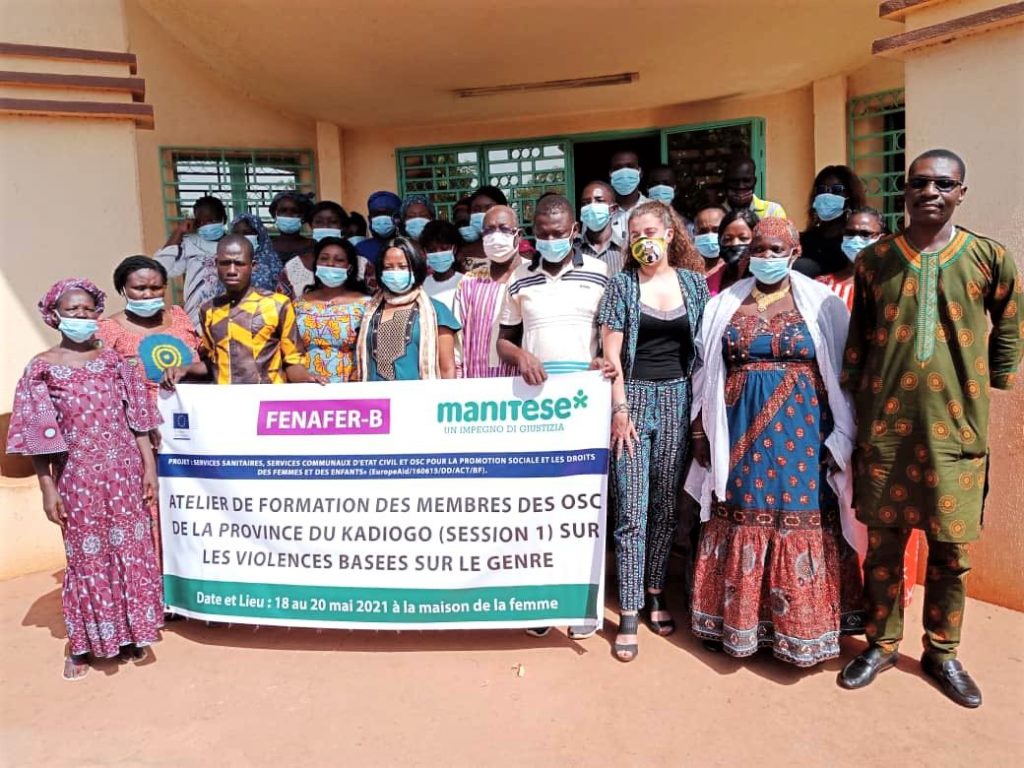 Moumini is 35 years old and is the young president of the cooperative "Koumare", which in Bissa language means "the understanding". Koumare is located in the village of Sampema, in the municipality of Zabré, in Burkina Faso, and to get there the road is difficult, you have to cross the savannah and at some point you almost think that you will never get there. But instead, at the end of the road is the village, where the cooperative works to give hope to young people, exploiting the raw material available: sesame.
Moumini and Koumare's project, ambitious and particular, is to realize a center for the transformation of sesame into oil, a precious product, very valuable and expensive. For this reason he committed himself and obtained, thanks to the project "Innovative social enterprises and participation of migrants for social inclusion in Burkina Faso" co-financed by the Italian Agency for Development Cooperation and Maria Enrica Foundation, a support for the realization of his idea.
Moumini and his colleagues have followed the entire path of incubation and business training provided by the project and have been able to purchase the oil extractor and a motor tricycle for the transport of their products. The cooperative also received special support from the Association of the Burkinabé Diaspora in Italy UABT (Union of Burkina Faso Associations of Treviso), which accompanied them throughout the project, not only with an economic contribution, but also with visits and advice. Its President, Idriss Tarabure, who went to Burkina Faso as part of the project to support Koumare, has been committed for years with his association for his country and in particular for young people and women who are for him the subjects on which to invest for a real development.
Obviously, there have been many challenges, but Moumini and the members of Koumare are slowly facing them all: first the oil extractor ordered from China did not arrive, due to the pandemic; then the price of the tricycle increased and now they are looking for a bigger rented structure to turn into a laboratory; but thanks to the commitment and contribution of all, the future looks bright for this ambitious enterprise. Moumini, in conclusion of our chat, addresses directly to his Italian friends: "First of all, our association would like to thank our partners in Italy for their financial support. As you know, we are in a developing country where the challenges are enormous and the state alone cannot do everything immediately. Added to this are insecurity and pandemic that negatively affect the march towards development. In this context, the presence of friends like you is something to be grateful for and proud of. We dare to believe that we will still and always have your support to market our sesame oil in Italy and around the world. For our part, we assure you that we will do everything possible to deserve the trust you have placed in us".
Below some photos of Moumini:
CONTINUE TO FOLLOW THE BLOG "THE CHALLENGE OF GROWING TOGETHER"
Mani Tese has always promoted environmental justice in the world, as the right of communities to exercise full control over the natural and energy resources of their territory.
In recent years, however, climate change is altering access to these resources, causing serious harm especially to indigenous peoples in the global South.
As is often the case, it is the most vulnerable who pay the price for the wicked choices of big business and politics.
For this reason we have decided to join the Climate Open Platform, a network of organizations and individuals who want to have a voice at the COP26 next November in Glasgow (Scotland), where nations from around the world will gather to decide on the future of all the inhabitants of the planet.
Read the appeal below
The 2015 COP21 Paris Accords seemed like an important first step in the right direction. Six years later, the results achieved are largely unsatisfactory.
The goal of limiting global warming to below 1.5 degrees has been called into question, so much so that there is now talk of not exceeding 2 degrees. But between the two values there is a huge difference with respect to the impact on ecosystems and the lives of people living in areas most at risk. We are tired of the climate crisis not being taken seriously and we are tired of the empty promises of politicians and governments around the world. Some timid steps forward have been taken, but no action has yet been taken with the necessary urgency and concreteness, while extreme weather, desertification and many other cataclysmic events are already bearing down on us. We are tired of the pollution and greenwashing of the public debate by oil companies, private lobbies and all the other great devastators of the planet. We think it is important that life on the planet be defended from the predatory and extractivist approach that the powerful of the earth have carried out in the last centuries.
That's why it's essential to have a voice at COP26 next November, in Glasgow (Scotland), where nations from around the world will gather to decide on the future of everyone on the planet.
The steps towards this event will be held in our country, in Milan, between September 28 and October 2. The Youth4Climate and PreCOP are called to make recommendations and define key issues for the negotiations of the following month.
We therefore give life to the Climate Open Platform. As civil society and movements we want to do our part, monitoring and trying to influence the institutional processes, in accordance with the associations and movements that will act in Glasgow and that share the guiding principle of our action: Climate Justice.
By climate justice we mean the social, economic and political change aimed at halting and reversing the effects of climate change and redistributing resources and well-being in a fair way at a global level, through a strong role of states and the centrality of real democracy and participation.
A commitment to justice that gives global warming an ethical and political dimension, as well as an environmental one, and that requires considering the disproportionate impact of climate change on citizens and communities, in both rich and impoverished economies. The most vulnerable social groups and peoples are in fact the ones who suffer the greatest impact even though they are the least responsible for overall climate-changing emissions. The rights of peoples, especially in historically and/or still exploited areas of the world, must be protected.
Premising:
In the IPCC reports (in particular "Special Report: Global Warming of 1.5°C"), the abandonment of fossil fuels is a constant for the development scenarios that would allow to reach the 1.5°C target. Therefore it is necessary that no new projects of research, extraction, processing (transformation) and consumption of fossil fuels are authorized, and that a gradual reconversion of the existing ones is carried out, proceeding towards a just transition.
UNFCCC argues that the transition to a circular economy is necessary: production and consumption must follow the rhythms dictated by the real human needs compatible with natural resources. Abandoning the idea of infinite growth in a finite world, finance must radically change its approach by disinvesting from fossil fuels and extractive projects incompatible with the protection of the planet and those who live on it, redirecting resources towards initiatives that are truly sustainable and supportive.
For the fight for climate justice to follow the scientific consensus by relying on the best available science and for the scientific community to play an active role in helping to determine the goals and steps of the transition to a stable and safe climate scenario for the planet and those who live on it, scientific knowledge must be free, free, accessible and participatory. No one should profit from scientific knowledge and that is why we also reiterate the need for Covid vaccines to be free of intellectual property rights.
Numerous studies and statistics underline the link between climate crisis and human rights violations: climate change puts at risk the security and livelihoods of billions of human beings. Human rights (including but not limited to those enshrined in the International Bill of Human Rights) and the rights of working men and women must be guaranteed for everyone everywhere. Along with human rights, the rights of nature must be recognized, as advocated by indigenous cosmogonies.
The peoples and territories that are suffering first and hardest from the effects of the climate crisis have in common a past of exploitation by colonial powers and are those who bear the least responsibility for the climate crisis. The struggle for climate justice is therefore an anti-racist and anti-colonialist struggle. It is necessary to dismantle the system that continues to perpetrate inequality and exploitation on a global scale. Reparations must be made to Global South and indigenous communities around the world, demanding immediate funding for the Green Climate Fund and repaying them in full through a redistribution of power and resources, as well as debt cancellation for the poorest countries.
The struggle for climate justice is a transfeminist struggle that promotes the abolition of gender roles and patriarchal dynamics in the family, society, economy, politics, and every other context.
The link between pandemics, zoonoses and ecosystem destruction is well established. The protection of ecosystems is the protection of human welfare and health, and since there is a relationship of interdependence between every living being, it is important that it is protected. The COP15 on Biodiversity will be fundamental to the pursuit of this goal. It must define more stringent limits for the conservation of biodiversity and oppose all interventions that alter it, from the introduction of invasive species to the pollution of soil, water and air.
The climate crisis puts millions of jobs at risk around the world. A just ecological transition is needed to protect workers, and it cannot happen at their expense. Just transition plans must be established through participatory pathways to plan a new model of sustainable development and create new jobs and just transition measures, universal social safety nets, lifelong learning and retraining. Workers' rights must be protected and their livelihoods guaranteed during and after the transition to a sustainable economy.
Our planet, the only one we have, is a common good shared by everyone who inhabits it. Every individual has the right to freedom of movement and every migrant must have their fundamental rights recognized, especially in a situation of pandemic and climate crisis that increases inequalities on a global scale. COP26 must move forward expeditiously to recognize environmental migrants and support programs for adaptation and repair of loss & damages.
The projects of useless, harmful and polluting large works are no longer sustainable and should be favored more localized interventions that ensure the health of the territories and those who live there.
We recognize the critical role that a free education free of private funding has in giving us and the next generation the essential tools to imagine and practice ecological transition and just and equitable change.
Starting from these premises, the Climate Open Platform aims to be a space of political and organizational convergence, in which to continue a collective work based on confrontation and consensus among all the realities and individuals who want to take part in the construction of this path.
During the last week of September, at the same time as the Youth Cop and Pre Cop meetings, Climate Open Platform will organize in Milan the Eco-social Forum, a week of events, initiatives, debates, actions, which will focus on the battle for climate and social justice, and will take to the streets on October 1st and 2nd, bringing back the fight for a fairer world.
In addition, Climate Open Platform will consider participation or solidarity in non-violent climate justice actions and mobilizations organized by other activists, organizations, and movements that promote a horizon of claims consistent with this call.
Towards and during these important events we want to build a path that makes our voice heard, the voice of all and everyone, the voice of those who want to give a different future to the planet.
Let's spread the word, let's participate, let's get organized!
In Guinea-Bissau, we are working with local farmers to develop the poultry sector thanks to the project "Let's sprout wings to development" co-funded by the European Union, as part of the broader Ianda Guiné program.
Among the planned activities, there are of course professional trainings and one of the people involved is Ms. Janoveva, who lives in Bissau.
Read his testimony below.
My name is Janoveva Vitor Sampa, I live in Bissau and I have been raising chickens since I was a little girl, first with my mother and, after her death in 2019, with my granddaughters.
Farming is the most important thing for me because it allows me to earn money and with that money I can send my daughter to school and pay for the expenses of the house. It is my only source of income.
Thanks to the Ianda Guiné program, I've learned many things I didn't know, such as how to correctly plan the breeding cycle or the importance of vaccinations.
I also participated in the two-day training for the beneficiaries who received the hens and I attended the project's aviculture course. I am currently doing an online course on raising other animals because I would like to raise not only hens but also other animals to expand our supply and reduce imports from abroad.
I have always given importance to breeding – continues Janoveva – but now I give it even more because I have skills and knowledge that allow me to earn more money and I know that I can improve my breeding.
Janoveva is therefore working to improve her breeding and increase her income, but she is not only thinking of herself. In fact, she also thinks about the good of the whole community and advises other citizens, especially women, to dedicate themselves to breeding.
Says Janoveva – I ask people to dedicate themselves to farming so as to develop our market and not depend on other countries. If we continue to be dependent, in fact, our economy will not be able to grow and we will remain in poverty. Livestock breeding is a dignified job that allows us to earn a living and supply the market with fresh products. Whereas, for example, the eggs and poultry, which we import can arrive in poor condition or even expired.
I am very happy to participate in the program Ianda Guiné! Galinhas program – concludes Janoveva – and I want to thank the European Union for the help. Thanks to the project I have been able to improve my livestock farming and now that "the holes on the road have been plugged" (a local saying) I can move forward faster.
The project "Let's sprout wings to development" co-financed by the European Union, in the framework of the wider Ianda Guiné program, is carried out by Mani Tese, Asas de Socorro, Instituto Marques de Valle Flor and University of Turin.
Since 1964, we operate in Africa, Asia and Latin America with international cooperation projects that have improved the living conditions of over 8 million people in more than 70 countries.
We are part of a global popular movement born to change the world, starting with ourselves. Together with thousands of volunteers, we build a sustainable future, we promote social inclusion and the protection of rights.
But good proposals are not enough to change the world…You must get your hands on it!
Watch our corporate video:
Video by raccontami.org
Text by Giorgia Vezzoli
Fotographs by: Mani Tese, Mirko Cecchi, Damnok Toek-Poipet, Matteo de Mayda, Alessandro Grassani
Video footage of Mani Tese and extracted from the documentary "Spirits I've called" by Chiara Sambuchi
Music: www.bensound.com
In Guinea-Bissau agriculture is the main economic activity and involves 85% of the population. Rural families, however, practice mainly subsistence farming and for this reason most of them still live below the poverty line.
In this context, poultry farming represents a good investment sector, potentially profitable and that can be managed in complementarity with agriculture and the raising of other animals.
The problem is that local producers traditionally see poultry farming as a secondary activity and this leads to low productivity. In addition, there is a lack of knowledge, equipment, a good credit system and medicines (during seasonal changes high mortality rates lead to accentuated losses for farming families).
Mani Tese, with the project "Let's sprout wings to development" co-financed by the European Union in the framework of the broader program Ianda Guiné, and in partnership with Instituto Marques de Valle Flor (IMVF), Asas de Socorro and University of Turin, wants to develop the poultry sector in Guinea-Bissau and has launched in recent months some vaccination campaigns for chickens of the beneficiary farms.
The goal is to increase food, nutrition and health security in the target regions of Guinea-Bissau by reducing chicken mortality and consequently increasing income in the intervention communities.
The vaccination campaigns are particularly directed against the spread of avian influenza and Newcastle (another type of infectious disease that affects chickens) and to date, thanks to the project, three vaccination campaigns have been carried out in the 6 regions of intervention, namely Gabu, Bafatá, Cacheu, Oio, Biombo and SAB.
"Nel tempo, c'è stato un notevole aumento dell'accettazione della pratica della vaccinazione da parte dei produttori, nonché un aumento dei trattamenti veterinari per gli animali – ci racconta Oscar Mateus, Assistente veterinario del progetto per IMVF – La stretta collaborazione della Direção Geral de Pecuária da Guiné-Bissau (DGP) e della Associação de Paraveterinários de Ingoré (APAI), nell'attuazione delle campagne di vaccinazione, ha dimostrato di essere un aspetto chiave per il successo dell'azione così come per la sua continuità post-progetto, soprattutto perché le campagne di vaccinazione sono una forma di divulgazione del lavoro svolto da tali entità, come pure una forma per avvicinarsi alle comunità stesse."
"Over time, there has been a notable increase in the acceptance of the practice of vaccination by producers, as well as an increase in veterinary treatment for animals – Oscar Mateus, Project Veterinary Assistant for IMVF, tells us – The close collaboration of the Direção Geral de Pecuária da Guiné-Bissau (DGP) and the Associação de Paraveterinários de Ingoré (APAI) in the implementation of the vaccination campaigns, has proven to be a key aspect for the success of the action as well as for its post-project continuity, especially since the vaccination campaigns are a form of dissemination of the work done by these entities, as well as a form of getting closer to the communities themselves. "
"During the vaccination campaigns, geo-referencing of supported aviaries is also taking place – Oscar continued – This tool will allow local health authorities to respond more quickly and efficiently to disease outbreaks in geo-referenced regions, enabling appropriate biosecurity measures to be taken in a timely manner."
A total of 240 households benefited from the third vaccination campaign (74 more than the previous campaign) and 11,000 birds were vaccinated against avian influenza and Newcastle disease. The increase in the number of households joining the campaign is a direct reflection of the success of the previous campaigns and their acceptance by chicken owners who have seen that bird mortality decreases significantly in vaccinated poultry houses.
Below are some photos from the vaccination campaign in the poultry houses:
Since 2019, we have been active in Guinea-Bissau with the project "Let's sprout wings to development" co-financed by the European Union in the framework of the broader Ianda Guiné program. In a context mainly linked to subsistence crops and cashew production, of which Guinea-Bissau is the 6th largest producer in the world, our goal is to develop the poultry supply chain, promoting socioeconomic opportunities in the communities of Oio, Cacheu, Biombo, Bissau, Bafata and Gabu.
Many activities were carried out in the first two years of work and the beginning of 2021 was the time for a detailed analysis of the progress made. Thus, visits were made to collect data and discussions were held with the farmers to seek solutions to the difficulties encountered. In addition, some members of the communities involved in the project received dedicated training in accounting.
On February 9, 2021, start-up kits for poultry production were delivered to 25 new project beneficiaries. The kits include: 50 laying hens, 4 bags of rations, 3 feeders, 3 drinkers and medications.
The handover ceremony took place at the headquarters of the NGO Asas de Socorro in Bissau and was attended by Florentino Correia, director of services at the Directorate General of Livestock, Simona Schlede, head of cooperation for the European Union in Guinea-Bissau, Cosimo Tendi, project coordinator for Mani Tese, and Alfredo Cà, Coordinator of the Family Aviculture Program (FAP).
Below are a few moments from the hen delivery:
by Giulia Inguaggiato, Mani Tese Cooperator in Guinea-Bissau
Almost a year has passed since the outbreak of the Covid-19 pandemic in West Africa, when the restrictive measures imposed by states in an attempt to contain the spread of the disease and avoid the disastrous consequences that had already been seen for some months in the rest of the world, highlighted the seriousness of the phenomenon of Talibé minors.
With the Senegalese government's imposition of a curfew, the weakness of those who had no home to live in and who had made the streets their home became more apparent. In May 2020 alone, more than a thousand children in vulnerable circumstances were identified. Important numbers that have increased over the months and that have led the Senegalese Ministry of the Family to take the decision to withdraw the children from the streets and welcome them in the various governmental and non-governmental reception centers present in the country.
After the usual operations aimed at identifying the nationality of the minors with the purpose of taking them to their respective communities, the cross-border nature of the phenomenon was confirmed. Most of the children were Senegalese, but numerous unaccompanied minors from Guinea-Bissau, Guinea Conakry and Gambia were also identified. Smaller numbers were recorded for those from Mali, Nigeria and Togo. While children of Senegalese origin were quickly reunited with their families, minors of other nationalities met a different fate.
The information that arrived daily in Guinea-Bissau from the neighboring border country led institutions, international organizations, NGOs and local associations to establish a cross-border Task Force to facilitate the return of minors of Guinean origin. However, despite these efforts and joint actions, the minors were not able to return to Guinea-Bissau until November of the same year. The pandemic emergency, in fact, was a powerful addition to the chronic emergency in the country, highlighting the fragility of a state that alone is unable to deal with a large and complex phenomenon. The closure of land borders has certainly slowed down the return operations, but the lack of means and resources on the part of the State, together with the structural deficiencies caused by the lack of state centers and the impossibility of providing an effective response capable of dealing with such large numbers, have hindered the possibility of intervening more quickly.
The contribution of AMIC, a local association that deals with the protection of Talibé minors and with which Mani Tese has been cooperating for several years now, has been fundamental in overcoming the stalemate that had been created. Thanks to the project "Investing in the future: protection, training and employment for returning migrants, potential migrants and unaccompanied minor migrants to Senegal, Gambia and Guinea Bissau", co-financed by the Italian Agency for Development Cooperation, it has been possible to act with concrete answers. Since the first entry in November, 90 Talibé children have been welcomed and reunited with their families. All the minors hosted in AMIC's temporary reception center in Gabu, the only one in the country, have received initial psycho-social support and health care, as well as hygiene kits and clothes.
Over the course of these months, we have also contributed to making AMIC's center more welcoming, purchasing furniture and beds, equipping it with a lighting system powered by solar panels and providing the kitchen with the goods and services necessary to ensure daily meals. We have also bought musical instruments, games and recreational material and we are equipping the center with a playground to guarantee the minors a suitable welcome and try to give back, in part, a childhood often denied.
Aware that reintegration into communities can often be difficult and complex, we are also providing post-entry accompaniment. Thus, once reunited with their communities of origin, children and families continue to receive psycho-social support, provided by a psychologist and a social worker who visit the villages and, at the same time, ensure school reintegration by meeting with community school teachers, paying tuition fees and providing school kits.
We are doing our best to respond effectively to a crisis that does not seem to be over. We continue to receive lists containing the names of minors of Guinean origin identified in Senegal and now, given the imminence of the rainy season which will make the operations of entry and reintegration of the minors even more difficult and the imminent conclusion of the current project, we are running a real race against time.
We will continue to act as long as we can, but it is clear that a more structured intervention on the part of the State and a response that can cope with the complexities of a phenomenon in which uses, customs and traditions are now amalgamated with the economic hardships in which many families in the most remote areas of the country still live and which will probably be exacerbated by the pandemic.
India is the country where child labour figures are most dramatic. It is the country with the highest number of workers under the age of 14, and of the 168 million child workers worldwide, 78 million are Indian.
Mani Tese is active in India with the project "Fighting and prevent modern slavery in Tamil Nadu", a state in the south of the country characterized by the large presence of textile industries. Here we work, together with our partner SAVE, to prevent and combat child labor.
Unfortunately, the outbreak of the pandemic has worsened the economic conditions of families and consequently the phenomenon of child labor. Below are some brief stories that have come to us in recent weeks from Tamil Nadu.
Alisha
Alisha is 11 years old and lives in Muthu Nagar. Her parents have migrated from Bihar in search of work and the family is composed of 8 members in total. In this moment of great emergency due to the situation related to Covid-19, and due to the difficulty of finding work for her parents, Alisha is forced to work in a textile factory. Specifically, she is in charge of unraveling waste fabric from garments and making decorations for clothes. Every day she can make up to 1000 decorations, but she earns only 50 rupees, equivalent to 57 euro cents.
Shanmathi
Shanmathi is 10 years old and lives in Eswaramoorthy Nagar. His parents both work in factories: his father as a tailor and his mother in quality control. The family consists of 4 members in total. Shanmathi has also been working in the factory for about a year now and is in charge of trimming at the Shiva Tex company. In one day he works up to 70 pieces and can earn a maximum of 21 rupees per day, equal to about 24 euro cents.
Masum Raja
Masum Raja ha 9 anni e vive a Muthu Nagar. Come Alisha, anche i genitori di Masum Raja sono emigrati dal Bihar e la famiglia è composta in totale da 6 membri. A causa delle difficoltà economiche dei genitori, Masum Raja ha cominciato a lavorare in una fabbrica tessile dove realizza decorazioni per magliette. In un giorno può lavorare migliaia di decorazioni o sbrogliare un chilo di filo, ma guadagna soltanto 30 rupie, equivalenti a 34 centesimi di euro.
Masum Raja is 9 years old and lives in Muthu Nagar. Like Alisha, Masum Raja's parents also migrated from Bihar and the family consists of 6 members in total. Due to his parents' economic difficulties, Masum Raja started working in a textile factory where he makes decorations for t-shirts. In one day he can make thousands of decorations or unravel a kilo of thread, but he earns only 30 rupees, equivalent to 34 cents.
Swetha
Swetha is 12 years old and lives in Eswaramoorthy Nagar. Her parents are tailors and work in the garment industry. However, their income is not enough to feed all the family members and so Swetha is forced to work. In particular, the girl does trimming at the textile company Divya tex and earns 30 paise for each piece worked. In one day Swetha can trim up to 100 pieces and therefore earns, at most, 30 rupees per day, about 34 euro cents.
Abirami
Abirami is 12 years old and lives in Thennampalayam. Her dad is a day laborer and her mom works as a quality control officer in a garment factory. Her family consists of 5 members in total. Abirami, who is also forced to work to increase the family income, does finishing work and earns 35 paise per piece. In a day, she works about 100 pieces, so she usually manages to earn 35 rupees per day, equivalent to 40 cents.
HELP US SUPPORT INDIAN FAMILIES BY DONATING NOW THROUGH ONE OF THESE WAYS
Bank transfer made out to Associazione MANI TESE NGO Onlus at Banca Popolare Etica (IBAN: IT 57 F 05018 01600 000010203040)
CCP, Postal Current Account: n ° 291278 in the name of Associazione Mani Tese NGO ONLUS, P.le Gambara 7/9, 20146 Milan
>>> Insert as reason EMERGENCY INDIA <<<