Two projects in Burkina Faso, "TOMATO REVOLUTION & SWEET PRODUCTION", have just been concluded. The first is co-financed by the Emilia-Romagna Region and the second by the Comitato Lecchese per la Pace e la Cooperazione tra i Popoli. Thanks to these interventions, Mani Tese has been involved in organising a group of women specialised in the transformation of tomatoes into puree and fruit into jam.
It all started with the identification of a group of 30 women, selected from the Loumbila Nankogblegzanga Producers' Union, and their subsequent training in the hygiene criteria to be adopted in the processing workshop, the sterilisation and storage of jars and, of course, the techniques for processing tomatoes and fruit to make tomato sauce and jams.
10 of these women, the most determined ones, then formed the group that would be in charge of preparing tomato puree and jams, and Mani Tese provided the necessary and useful equipment for the transformation: a set of pots of various sizes, cookers, scales, work tables, jars for packaging the products and various tools.
The group of women also had the opportunity to visit another cooperative, that of Boussouma in the province of Bolgou, a region in the centre-east of Burkina Faso, which has been producing tomato puree for some years now. Here, the women were able to better understand the potential of this activity and saw at first hand a medium-sized processing unit with a good production rate that is already supplying many customers, with a fair return for the women who are part of the cooperative. This exchange visit certainly helped to motivate the group further.
However, one very important element was missing: we had to build the workshop where we could process the tomatoes and fruit! It seemed impossible, because no renovation work was foreseen in the project budget, but with a bit of shrewdness we saved money on some purchases and applied for a non-burdensome variant to shift the necessary funds, which the Emilia Romagna Region approved.
To create the processing workshop, we made use of the outdoor patio of the Union's headquarters in Loumbila, which had not been used until now. We paved the floor with tiles and installed windows. Et voila, the workshop was ready to host the activities of the women, who immediately showed great care for this space: woe betide entering without their permission or taking off your shoes!
This is how the production of jam and tomato sauce started. We have enhanced the products by accompanying the glass containers with beautiful labels, creating a kind of product line characterised by pleasant aesthetics and immediate recognisability that enhances the contents. The group of women processors also participated in two trade fairs, which enabled them to receive their first orders and acquire contacts from potential customers.
Obviously, running a business is not always easy and there have been many difficulties: this year, for example, tomato production was low due to reduced rainfall and an insect attack on the plants. This year, for example, the tomato production was low due to a decrease in rainfall and an insect attack on the plants. However, the group of women was never discouraged and managed to prepare all the preserves that were ordered.
Some figures on Mani Tese's support to the Union of Producers of Loumbila Nankogblegzanga (Burkina Faso)
Over the years, Mani Tese has supported the Loumbila Producers' Union through numerous projects and has helped to promote agro-ecological transition in the peri-urban area of Loumbila, which is about 40 km from the capital Ouagadougou.
In 2016, the Loumbila Nankogblegzanga Union had 10 agro-ecological production sites, whereas today there are more than 50. 230 producers are members of the Union, including more than 140 women, from 9 villages and grouped into 17 member cooperatives. In addition, one site, where Mani Tese has built the Union's headquarters, has acquired the Bio SPG label, an alternative organic certification system adapted to the local context. Finally, for some years now, Mani Tese has contributed to the activation of an internal credit system that supports producers in the purchase of equipment, seeds and other items, at crucial times for seasonal production.
Although the "TOMATO REVOLUTION & SWEET PRODUCTIONS" projects have come to an end and there is no longer any direct funding, Mani Tese has nevertheless decided to stand by the Loumbila Nankogblegzanga Producers' Union by continuing to mentor the women processors in the development of their business and supporting the credit system already in place for the benefit of the cooperative's producers.
Here are some photos of the women at work in the workshop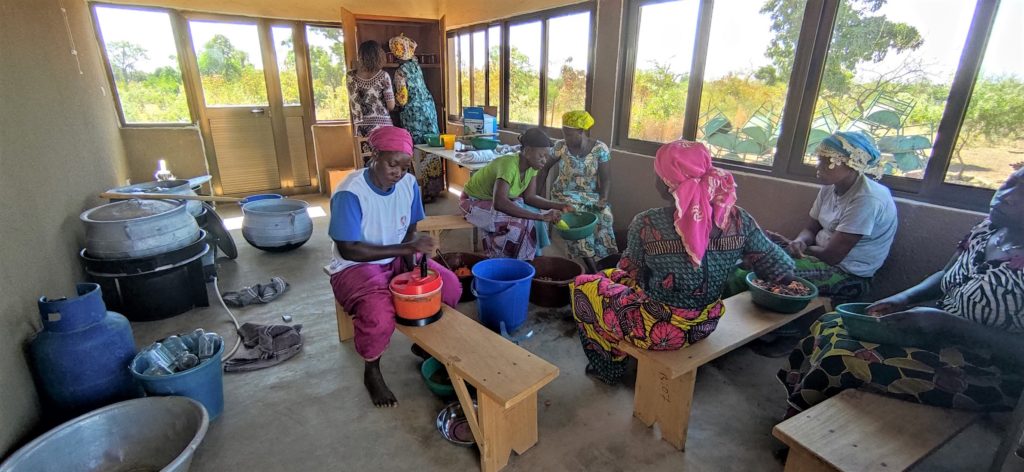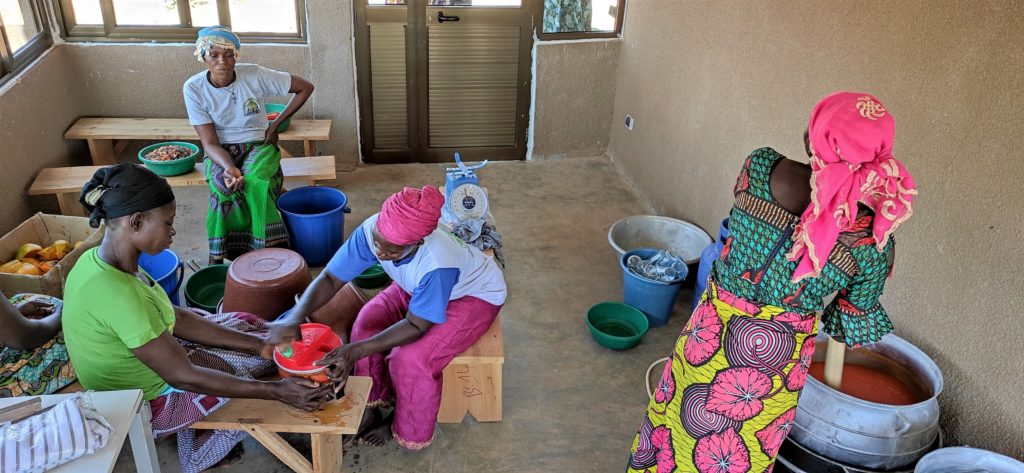 Participation in a trade fair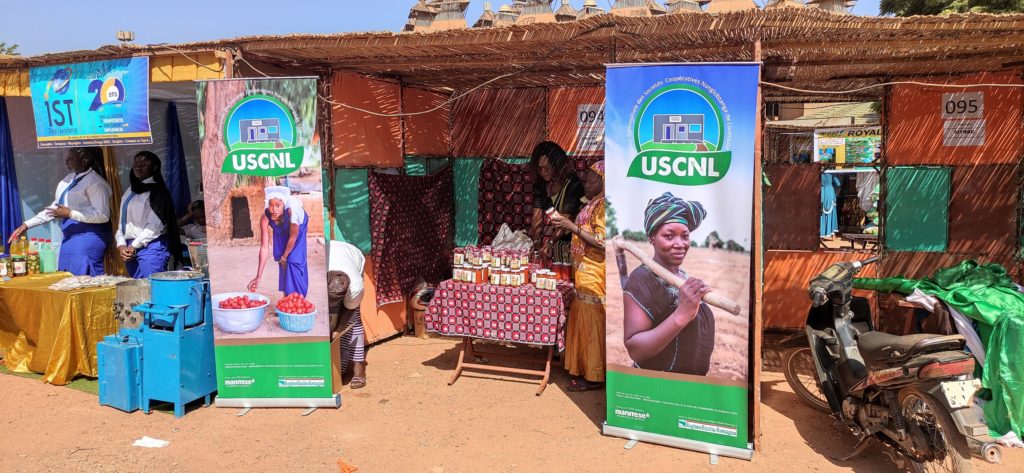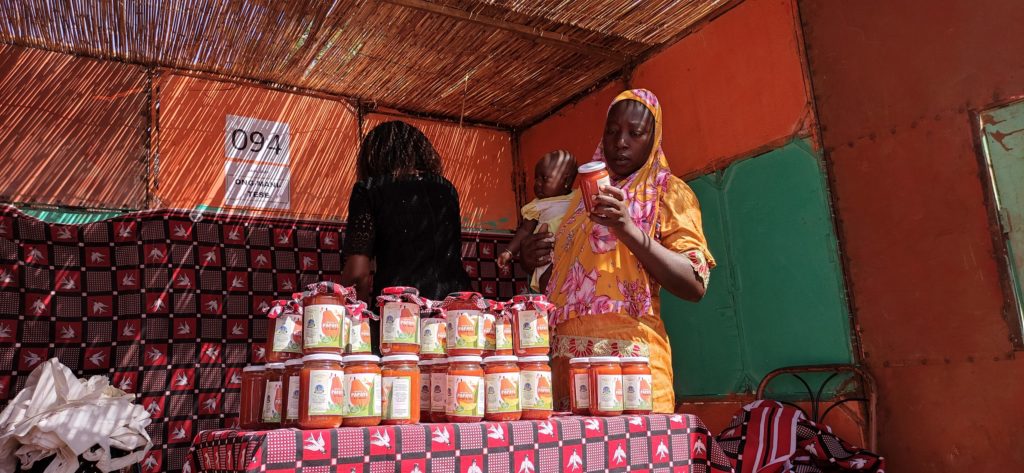 Transforming the outdoor patio of the Loumbila Nankogblegzanga Union office into a laboratory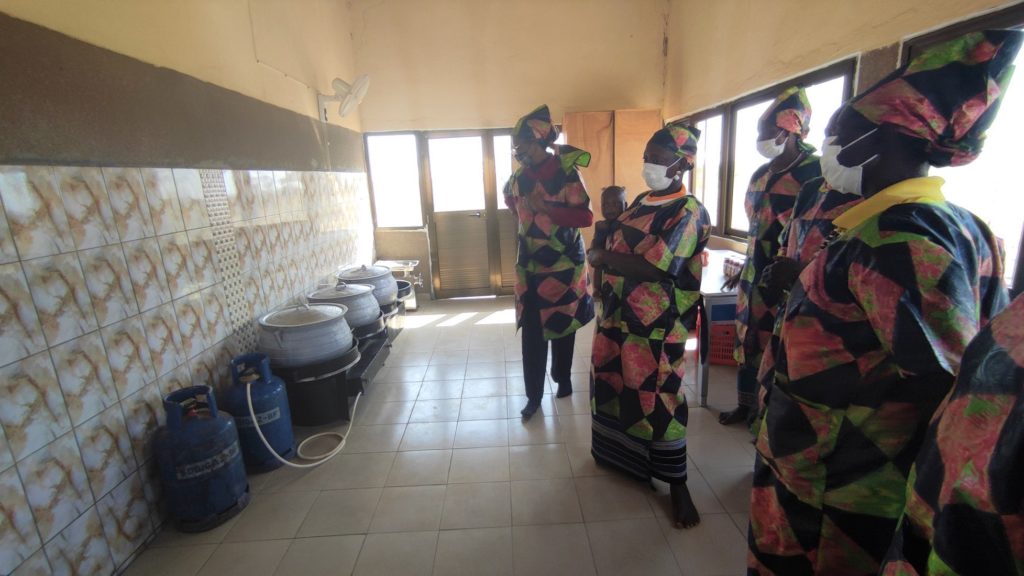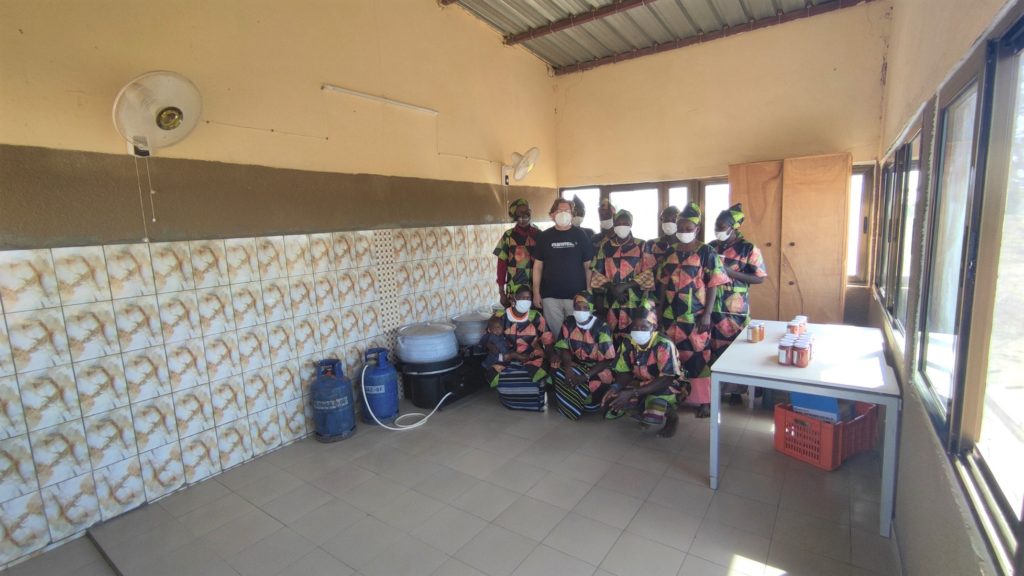 by Samuele Tini, Responsible of Country for Mani Tese in Kenya
The conflict between Russia and Ukraine does not only affect Europe but also distant and already fragile countries such as Kenya.
What makes the bombs in Kiev a source of problems even for the producers involved in our development projects in Molo or Baringo, which have already been severely tested by these two years of pandemic and economic crisis?
Grain and food products
The answer is that Kenya imports more than 75% of its wheat and other foodstuffs, including maize for animal feed (100% imported) and sunflower oil.
With regard to ingredients for animal feed, demand had already grown exponentially over the past year, leading to a doubling of prices. By the end of last year, in fact, the country's large livestock companies had spoken of imminent collapse.
As regards grain, many African countries are more than 60-80% dependent on imports of the product from Ukraine and Russia. This is a very problematic situation, which will certainly have social repercussions.
Other problems concern exports: Russia was one of the leading importers of tea, roses and agricultural products from Kenya. But now with the sanctions everything is blocked and this will cause further damage.
Commodities, energy, inflation
The war has already caused the price of raw materials to rise, and supply disruptions from Russia and Ukraine, which sell 40% of their production to African and Middle Eastern countries, are certain to be felt even more intensely.
The cost of crude oil at USD 110 is not good news for Kenya, a country almost 100% dependent on fossil fuels. The price of fertilisers, also imported from Russia and China as far as Kenya is concerned, is rising and has already doubled since last year.
Food basket inflation is 9%. According to data from the Kenya National Bureau of Statistics, the burden is heaviest on poor households, as food constitutes almost 40% of their expenditure.
Energy is another problem. The price of kerosene and paraffin has increased by 21% in less than a year, and it is rising. 6kg cooking gas has more than doubled and this is not good news for forest resources. The increase in gas is in fact pushing people back to using wood and charcoal in cities as well.
The social situation
The outcry over this situation in Kenya has also spread on social media, showing how the tension over prices is putting a strain on the country. But a Twitter hashtag is unlikely to change this.
Tensions created by skyrocketing grain and feed prices are compounded by political tensions and local instability, exacerbated by drought and climate change.
The winds of war blowing in Europe have never subsided in Africa and particularly in the countries around Kenya, with the harsh conflict in Ethiopia and the low-intensity fighting on the Somali border, and the problem of banditry and cattle theft.
Unfortunately, in recent days, bandits from the Baringo area have killed seven people during attacks in Loruk.
Our work alongside local communities
This situation also inevitably causes suffering for the producers with whom we work.
In the Baringo area, through our development cooperation projects such as 'Agri-change: small business big opportunities. Development of agri-food chains in the Molo river basin', co-financed by the Italian Agency for Development Cooperation, we are working to reduce dependence on fossil fuels by promoting biogas. We are also trying to introduce local products into the composition of animal feed. In agriculture, we promote the use of improved local seeds and the agro-ecological transition to reduce dependence on synthetic chemical fertilisers.
At this time, within the limits of our resources, we are trying to stand by communities and small businesses and help them make difficult choices. Certainly producers will have to reduce animal stocks and prepare for a complex period, but we are confident of their resilience and capacity shown in these two very tough years of pandemics, lockdowns and economic crisis.
Hopes for recovery in this scenario are certainly not rosy, but we continue our work and our commitment to justice alongside local communities.
To support our commitment to justice in Kenya, use the reason for payment "Emergency Kenya" and DONATE ONLINE or via bank transfer through iban IT 57 F 05018 01600 000010203040 and Bic/Swift CCRTIT2T84A made out to Associazione MANI TESE ONG Onlus.
In the province of Zambezia, Mozambique, we are working to improve the food security and nutritional situation of the most vulnerable communities by strengthening agriculture and animal husbandry. We are doing this through the 'Circular Agriculture to Reduce Hunger in Zambezia' project, co-financed by the state-run 8×1000, which you can also support by donating here.
Last month, from the community of Barrone, we received the testimony of one of the beneficiaries of the project, Mr Isaías Manuel.
Before the project," Isaías says, "we had difficulties in farming, due to inefficient cultivation techniques, problems with irrigation and lack of access to seeds. We were not aware of the importance of having a variety of crops and maize, for example, was only grown in the second half of the year, not the first.
Mani Tese helped us with new equipment, seeds and training on agriculture. Now we have changed the way we farm and we are already reaping the first benefits of this work.
Another problem in the community," Isaías continues, "was drinking water. The well we had in the village was old and the water was no longer good for drinking, we only used it for farming and washing. Now, thanks to the Mani Tese project, a new well has been built and we have drinking water every day.
Mani Tese has also helped us to improve the nutrition of our children. Unfortunately, our sons and daughters have to walk about 5 km to get to school and they need nutritious, energy-giving food. In the past, we used to give the children porridge with rice and sugar, but families who could not afford it used to put salt instead of sugar. Thanks to the teachings of the project, we have learned other ways to prepare food for our children. Now we prepare soy porridge and make it more nutritious with eggs, fish or something else.
An additional difficulty we are facing," Isaías continues, "is climate change. In the past we sowed in November, now we have sown in January to adapt, but it is a rainy month and this makes production more difficult. With the help of Mani Tese, however, we hope to overcome this difficulty too.
In the future," concludes Isaías, "we hope to be involved in Mani Tese projects again because we have learned so much, but we also need schools and new wells for drinking water. Thanks to Mani Tese and thanks to all those who will help us."
Read other stories from the 'Circular Agriculture to Reduce Hunger in Zambezia' project and help us improve Zambezia's food security: https://www.manitese.it/en/project/circular-agriculture-to-reduce-hunger-in-zambezia
Sreypin* is a 15-year-old Cambodian girl and the fourth of eight siblings. After the death of her father, the girl's mother remarried and arranged with an intermediary to take her sons and daughters to Thailand to work.
So Sreypin started working for a Thai family as a maid, cleaning the house and taking care of their dogs. She initially earned 4,000 Thai baths, equivalent to 107 euro per month, but half of her first salary was given to the intermediary. After a few months of work, Sreypin's mother asked her employer for a loan and he reduced her salary to 3,000 baht per month, about 80 euro.
Sreypin says: "When my mother remarried, she no longer cared about me, she only asked for money. I was afraid when I was in Thailand and did not want to live or work there, but my mother did not help me. She had no idea how bad the working conditions were".
At some point Sreypin's employer started accusing her of stealing money and deliberately breaking valuables in the house. So, one day, he picked up Sreypin and took her to an unknown area, abandoning her in the middle of nowhere.
The young woman was very scared and remembers: "I didn't know how to get home, I felt lost. At one point I saw a street vendor and asked her for help, but she called the Thai police. The police came and took me to a shelter for girls. I stayed there for two months before being taken back to Cambodia".
Once in Cambodia, she was dropped off at the Poipet transit centre, at which point Damnok Toek, in cooperation with the local authorities, referred the young girl to the Damnok Toek reception centre where she still lives.
Now I am here at the shelter," says Sreypin, "I can study Khmer (the Cambodian language) and learn new things. I am very happy at the centre because we have a house to stay in and what I learn is useful for life and makes me happy. We do meditation, dance, handicrafts, gardening, cooking, drawing and we can talk to the psychologist.
In the future, Sreypin dreams of becoming a seamstress or a farmer because she likes gardening and wants her fruit and vegetables to be grown naturally, without chemicals. Finally, she strongly wants other vulnerable children, like her, to be able to go to school and learn.
Help us support the Damnok Toek children's home: https://donazioni.manitese.it/en/
*Sreypin is a fictitious name to protect the privacy of the child.
The European Commission has presented its long-awaited proposal for a Directive on due diligence for companies on human rights and the environment. The aim is to impose obligations on companies to verify and prevent the negative impacts of their activities on workers, consumers, vulnerable communities and ecosystems (so-called due diligence).
The proposal certainly represents a significant breakthrough, but it is still not enough to contribute to the respect of human rights and the environment in the world, warns the Impresa2030 campaign.
Giosuè De Salvo, head of Advocacy, Education and Campaigns at Mani Tese and co-spokesperson for Impresa2030, says: "This is certainly a step forward, but there are a number of obvious critical issues. The law, as it is conceived, stipulates that only large companies – i.e. those with a turnover in excess of €150 million and more than 500 employees – will be held legally responsible for violations generated directly or indirectly by their activities. In particularly high-risk sectors such as agriculture, textiles/clothing and mining, the threshold drops to 250 employees with revenues of more than EUR 40 million, but this is not enough to extend the legislation to the vast majority of European companies, 99% of which are small and medium-sized, including those in high-risk sectors. The number of staff employed and the annual turnover are not figures that necessarily tell the story of how a company can create damage to the environment and people. If the directive were to affect only 0.2% of European companies, we would miss a historic opportunity to use due diligence as a strategic lever to change the corporate culture that has always put and still puts profit before respect for fundamental rights and nature".
Martina Rogato, co-spokesperson for Impresa2030, says: "The proposal also leaves plenty of room for circumvention. Large companies, for example, could add new conduct clauses in their contracts with smaller supplier partners and, in doing so, free themselves from the obligation to supervise by transferring it to them".
While the proposal provides for the introduction of civil liability for failure to comply with due diligence obligations, the text does not take into account a number of obstacles in victims' access to justice. "There is no remedy for a number of factors that often deny victims a fair trial – explained De Salvo – such as high legal fees, excessively short reporting deadlines, a disproportionate burden of proof compared to the strength of the opposing parties. Imagine, for example, an indigenous Nigerian community accusing a multinational oil company".
"The Commission's draft directive promises a new path to justice and compensation for exploited, traumatised and injured communities and workers. But,' Rogato illustrates, 'unless it makes it easier for victims to sue companies, it is unlikely to make a difference. And this lack of substantive accountability risks perpetuating major problems such as the exploitation of labour, including child labour, access to land and forests, the destruction of biodiversity and CO2 emissions into the atmosphere".
On the subject of global warming," De Salvo explains, "the European Commission wants companies to adopt a climate transition plan in line with the 1.5 degree target of the Paris Climate Agreement. However, the proposal does not foresee specific consequences for breaching this obligation".
The proposal, which has been awaited and postponed from June 2021 until now, will now be negotiated by the European Parliament and the Council: "We now call on the European Parliament and the Council to strengthen the text and fill in the gaps, in order to adapt it to the obvious and urgent need to protect people and the planet," Rogato concludes.
The second year of the "Project to improve the nutritional conditions of women and children in the health districts of Garango and Tenkodogo, Burkina Faso", co-funded by the Italian Agency for Development Cooperation and led by the NGO AES-CCC, has just ended.
As part of this project, we are training 2000 rural women rice farmers to improve production (Objective 1) and, at the same time, we are setting up rice processing centres specialising in the étuvage technique to produce better quality rice (paraboiled rice) (Objective 2).
With regard to the first objective, this year we trained 1,300 women rice producers who learned to sow in line (instead of randomly) and understood the importance of early sowing, which is now essential to cope with climate change and reduced seasonal rainfall.
In addition, we have completed the training of all 2000 women involved in the project in the techniques of producing compost from the organic materials available in the village, which leads to the abandonment of chemical fertilisers with economic savings for the families and important benefits for the health of the soil.
Some of these women were then involved in the creation of four small experimental fields where the rice was planted, on the one hand, using the traditional technique used by the women before they became involved in the project, and on the other hand using the compost production and use techniques promoted by Mani Tese. In this way, as time passed and the rice grew, the women were able to compare the results of the two techniques and verify the effectiveness of the techniques they had learned.
It is good to see how this trial motivates and encourages women to use the new techniques and leads them to abandon chemical fertilisers. It is also good to see how many women who are not involved in the project, but who live in the area, see the results of the trial and take an example to improve the cultivation and yield of their fields.
Regarding the second objective, we are very happy to have created four new rice processing centres, training 12 women in the étuvage (parboiling) technique. During this process, the paddy rice undergoes several cycles of chauffage and sechage, i.e. the rice is steamed and then dried before husking. The result is a rice with a physical, organoleptic and nutritional quality superior to classic white rice; a rice that can be sold on the market at a slightly higher price, giving the women who processed it a more attractive profit margin.
For each rice processing centre, sharing sessions were organised, in which the women who had learned the technique showed it to other women in the village (even those not involved in the project). Each centre has been equipped with materials and machinery for the processing process and we have also added a small lighting kit for the women who often work after dark.
The women's groups in the processing centres were finally accompanied in a process of organising themselves into a cooperative. Training was provided on administrative management and a business plan was prepared to make the processing centres sustainable.
To discover all the stories of the project, visit the dedicated page on the website: https://www.manitese.it/en/project/improvement-nutritional-conditions-women-and-children
Here are some project photos: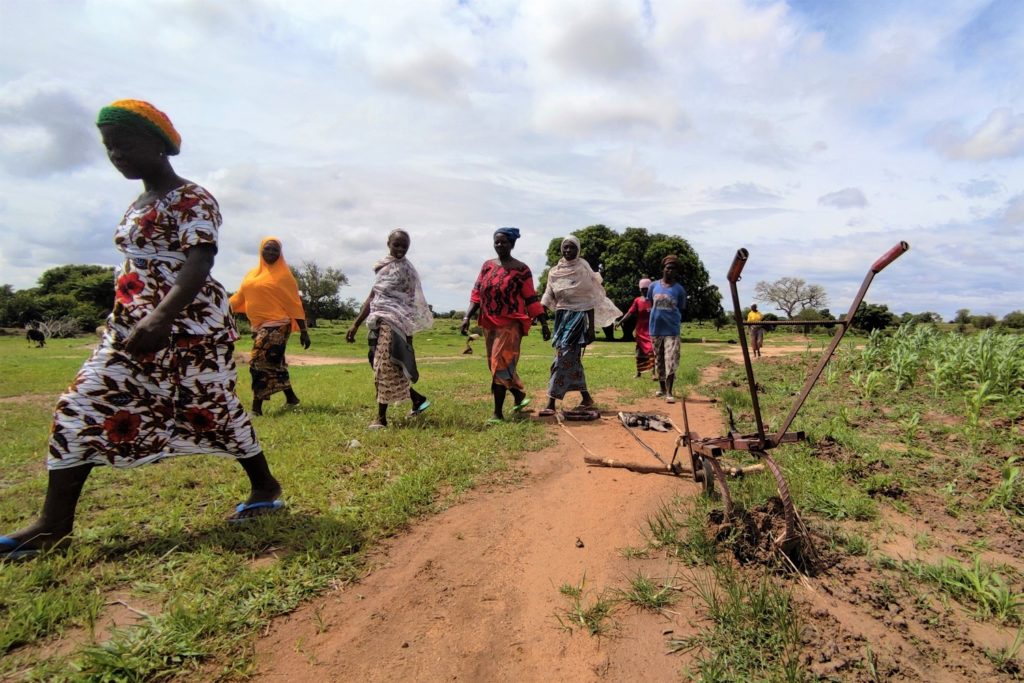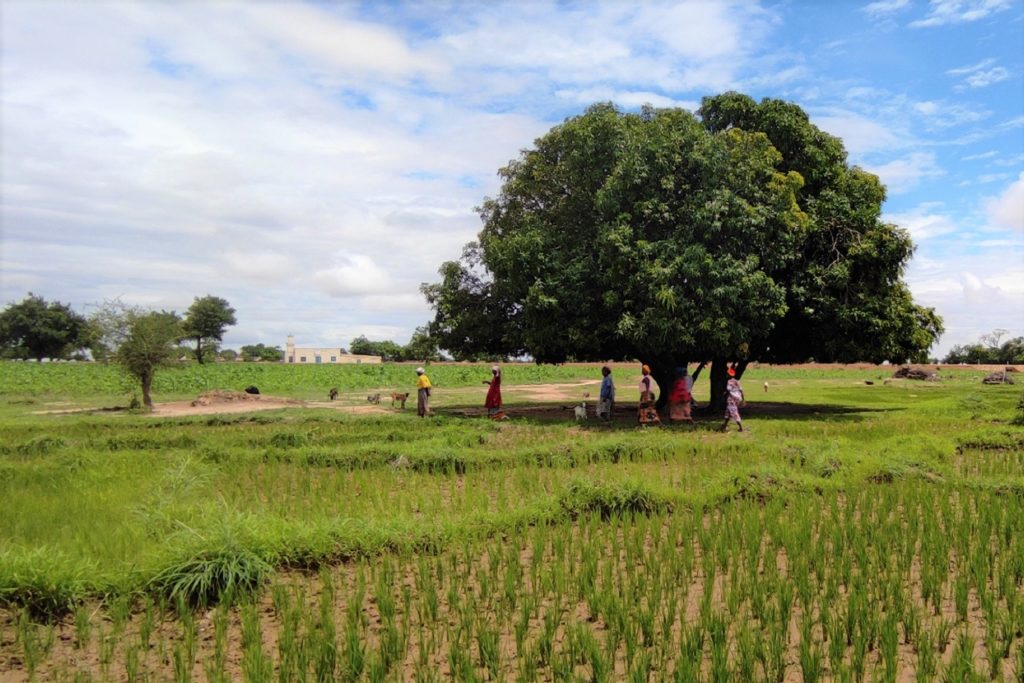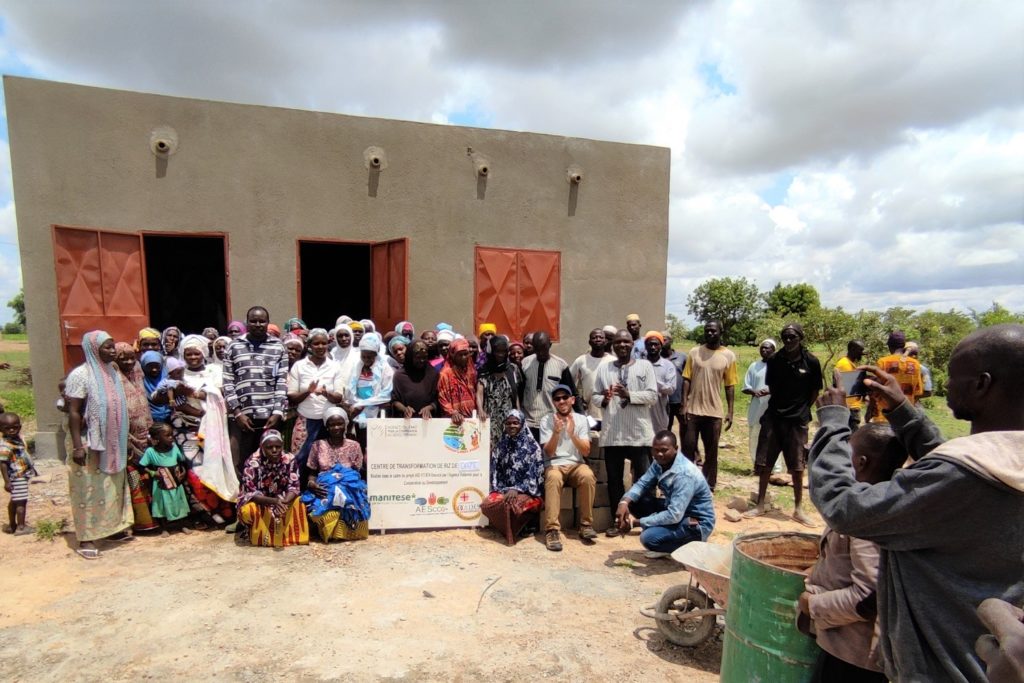 Climate change is one of the challenges the world is facing and one of its causes is environmental degradation, resulting from deforestation, the use of chemical fertilisers and other polluting products, and poor waste management.
Preserving the environment may not be enough to reverse climate change, but it will certainly help us to manage its effects in a more sustainable way. That is why we at Mani Tese in Kenya are committed to promoting activities that reduce human impact on the environment.
Baringo County, in particular, is one of the areas identified as arid and semi-arid. Annual rainfall is often minimal and in most cases there is a prolonged period of drought. However, there are drought-tolerant trees in the area, such as acacia, which provides considerable help in controlling soil erosion.
Many people in this area depend on livestock farming, which is not a reliable source of income. Most people sell charcoal, which is also used as their main source of fuel for cooking, and cut down trees to make wood. Obviously, these activities have contributed greatly to the degradation of the environment.
As the area is crossed by a river and some seasonal streams, the residents also practice subsistence farming using chemical fertilisers, thus contributing to the further degradation of the land.
To counter these phenomena and at the same time generate more sustainable sources of livelihood, within the framework of the project 'Agri-change: small business big opportunities. Development of agri-food chains in the Molo river basin', co-financed by the Italian Agency for Development Cooperation, 25 farmers were selected and given some pigs to raise.
However, the main concern of most of the farmers involved in fattening the animals was waste management, as pigs are known to produce a lot of waste, which makes the environment dirty and causes air pollution. To solve this problem we have installed – for now at three of the farmers involved – a biogas plant to manage the waste in a more sustainable way. All 25 beneficiaries will soon receive the plant, which will improve not only sustainability but also energy supply, as the prices of petroleum products, including LPG, have increased in Kenya.
The clean energy from the biogas will be used for cooking, which in turn will reduce the number of trees cut down for firewood and charcoal. The women will also have more time for other activities as they can spend less time collecting wood.
The biogas plant also produces bioslurry, a liquid that comes out after the gas has been produced. This substance is a very good biological fertiliser which, when used as a fertiliser, will replace chemical fertilisers, which are harmful due to the acidity of the soil and the depletion of minerals in the soil. Soil degradation can thus be reduced or eliminated by switching to organic farming, which includes the use of tools such as manure, bio-fertilisers and bio-pesticides.
The three beneficiaries who have already installed the biogas system are very happy because they can effectively manage their waste and enjoy a clean energy source for cooking.
"I am very happy with the provision of this biogas plant, which is a totally new technology for me," said one of the beneficiaries during the installation. I did not know that pig and other livestock manure could be used to produce gas for cooking. I only knew about gas but didn't use it because it was too expensive and my family is large. Now we can cook for everyone quickly and comfortably because we have two cookers. From today I will officially stop going to the forest to collect firewood".
We are convinced that this activity will soon bear fruit by providing a sustainable opportunity for the production of heat for cooking food, and gradually will also be able to participate in mitigating the phenomenon of environmental degradation that has become rampant in almost all regions of Kenya, including Baringo.
Some photos of the installation of the biogas plant:
Kenya is experiencing a new wave of Covid. The Omicron variant seems to have taken over. There has also been a high incidence of 'flu' cases in the communities.
2021 was a year full of difficulties for Kenya, and 2022 opens with concerns of possible new restrictions that could deal the final blow to the fragile economy.
In this complex and difficult landscape, there are also positive stories. What we are telling you today is the story of a man who decided to raise awareness in a country where vaccination reluctance is still high, despite the fact that vaccines are finally coming.
Leonard Kiplagat wanted to perform a symbolic act: he walked from Eldoret with the Kenyan flag and recently reached the capital Nairobi. He did this to thank the health personnel and to urge people to get vaccinated.
Leonard decided to act because of the rapid spread of the Omicron variant and low vaccination rates. In December, just over 10 percent of people in Kenya were vaccinated.
Leonard, carrying a whistle and a flag, walked more than 300 km, stopping at markets, bus stations and calling people to inform them of the risks of the virus and the benefits of vaccination. A gesture of strength and hope, which the local ministry also declared commendable.
Together with our local partner Necofa, we at Mani Tese are following with concern the evolution of the situation and the news of many people reporting cases of flu. Nevertheless, we continue to raise awareness alongside the communities in these days with our cooperation projects AGRI-CHANGE: small business big opportunities, co-financed by the Italian Agency for Development Cooperation, MAZIWA! youth employment and economic development in rural areas, co-financed by the Emilia Romagna Region, and MAZIWA! an integrated approach to the dairy goat supply chain in Baringo, entirely supported by Mani Tese.
Cathérine is a woman in her 50s, living in Tampègré with her 6 children and husband. Cathérine got to know Mani Tese in 2014 through a training on structuring and organising transformation groups. After the training, she set up a group with 25 other women called "Tétooma" and became its president.
Thanks to Mani Tese projects, the group was trained in cassava processing and the marketing of the products. In addition, the women received processing equipment from Mani Tese, including a motorised grater and a press. Finally, in order to ensure the group's economic independence, Mani Tese put the women in touch with a microfinance facility, which provided them with loans to increase their processing and production capacity.
Today, Cathérine's group has a collective cassava field, does horticulture and produces vegetables such as tomatoes, green beans and ochre.
Today, thanks to a new project by Mani Tese, 'Improvment of food safety and hygiene conditions in the Atacora communities' co-financed thanks to 8 per 1000 IRPEF funds directly managed by the state, women are trained in the agricultural production techniques of yellow maize, yam, sesame and sweet potato, which had disappeared from eating habits. The return of these crops proved beneficial to families because it increased the availability of food and their incomes.
In addition, Cathérine and her group participated in some training sessions on the importance of school, after which she was often called to meetings of parents' associations to make them aware of the risks of dropping out of school and, with her group, formed a team to make girls aware of the importance of not dropping out of school.
Cathérine wonders if she had not done the training, but had remained in the fields, who would have spoken on behalf of the women in the village. She says she is grateful to have been able to participate in the Mani Tese "school", which has taught her many things and allowed her to change her life, without having to spend all her time chopping wood and turning it into charcoal as many women in her village still do.
Today, Cathérine is able to contribute to the household expenses thanks to the profits she makes from the marketing of gari, the processed cassava, and when her children are sick and her husband is away, she manages to take care of them. She also manages to buy something for herself.
Her three older children unfortunately no longer go to school, but the three younger ones do, one is already in secondary school.
Understanding the importance of school for their children was crucial and they thank Mani Tese and all the staff for this.
She considers herself a happy woman because she has acquired a new value even within the family and considers Mani Tese as the 'school' she did not have the chance to attend.
by Samuele Tini, Mani Tese Kenya Country Officer
We would love to write about our projects and the initiatives we are carrying out in Kenya, but at this time it is also our duty to inform and raise awareness about what is happening in the country.
Kenya is in a difficult situation. After two years of sporadic rainfall caused by climate change, the situation has deteriorated further this year.
The United Nations recently launched an appeal to save as many as 2.1 million people at risk. Since then, the news has unfortunately not been encouraging.
The rains are slow in coming, and local newspapers are increasingly reporting conflicts between people and wildlife. Because of the drought, animals are leaving protected areas in search of food and entering inhabited areas. Many animals, including dozens of elephants, giraffes and other herbivores, have unfortunately died in recent days, as reported by the national newspaper Nation. Livestock losses have also occurred.
As reported in national newspapers, political representatives from the most affected communities have provocatively called for the elections to be postponed and for the money to be used to fight the drought.
As if that were not enough, a few days ago (28 November) Nairobi was hit by a cloudburst. Pictures of cars sailing and sinking in the water have gone around the country. Some photos here
Climate change has become a reality. Our activities in the Baringo area are also affected by the severe drought, which is putting the communities we work with under strain.
In addition to the red-hot hammer of drought, the anvil of pandemic has also returned.
After the news of the compulsory vaccination required for most activities by December and after witnessing a reduction in Covid cases, the new Omicron variant seems to take us back to the world of 2020 with closures, flight stoppages and the resulting economic crisis.
For countries like Kenya, for which tourism is one of the most important sources of income, these restrictions, as well as a more general phobia towards Africa, risk dealing the death blow to already precarious economic activities. Just one month before the summer season in the southern hemisphere, they make us fear the worst.
Kenya has so far not been affected by the blockades announced by several countries, but the knock-on effect will be felt. And the positivity rate has risen fivefold in the space of a week, to 6.6 per cent, creating renewed alarm and rumours of closures.
The African Union has asked not to create panic and to avoid discriminatory measures. There are calls from many quarters to finally provide more vaccines to the African continent which, with the exception of South Africa, has very low percentages of people vaccinated. Training and awareness-raising activities are also needed for populations affected by the economic crisis and the impacts of climate change.
As always, we at Mani Tese are trying to work alongside the communities in this delicate moment, hoping for a quick return to normality, which will avoid further shocks to already fragile economies.