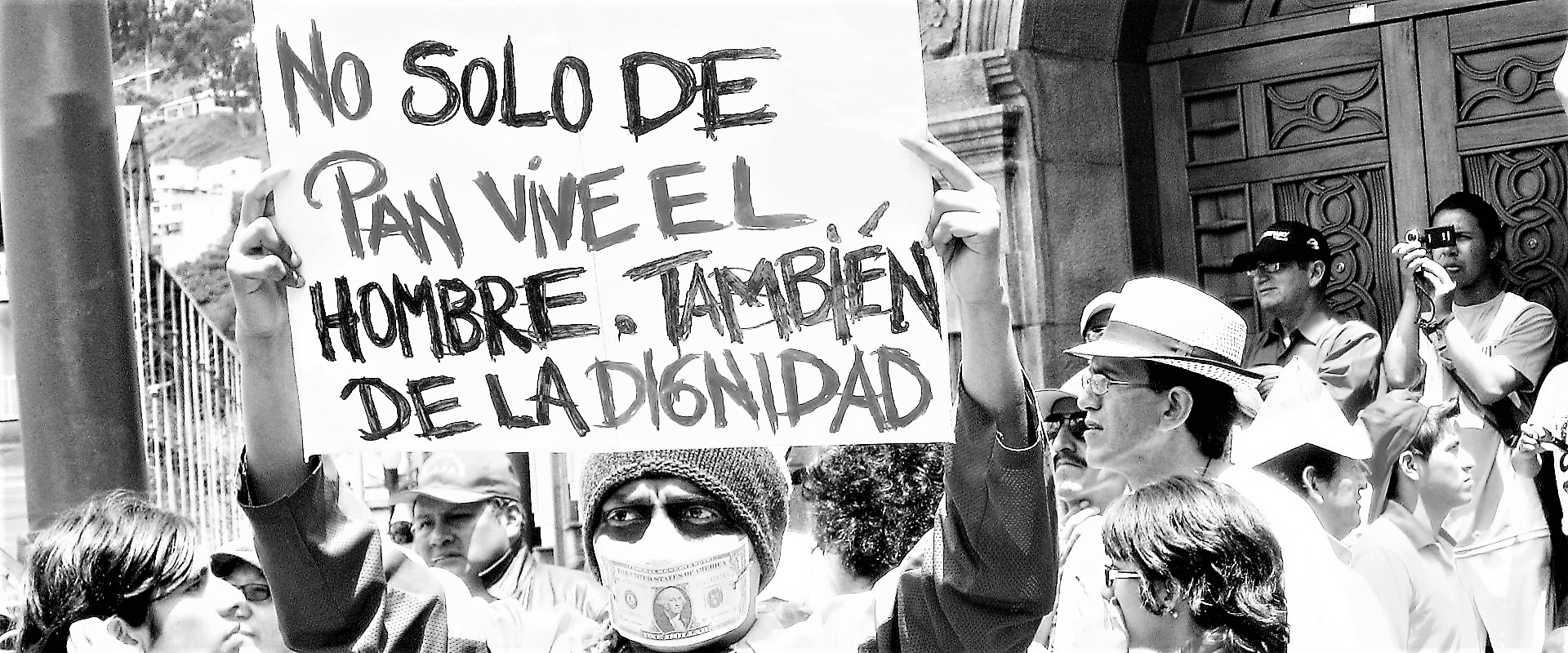 Commitment and values
Since 1964, a COMMITMENT FOR JUSTICE!
OUR COMMITMENT
For us, justice means to tend towards equality. It is the research for an effective respect of human rights for all, in every part of the world and in respect for local communities and their own autonomous choices to define their own development model, in harmony with each other and the natural environment.
Justice is the possibility of each community to freely self-determine their own wellness, in a peaceful and non-violent discussion with the other.
Our commitment to justice has always been structured on all fronts: the economic, social and environmental one. 
It is not only limited to the denunciation or enunciation of rights, but it is a concrete practice, which wants to help populations, who are suffering the consequences of an unequal political and economic system, to succeed on their own, through sharing and solidarity.
OUR VALUES
Justice and equity




The action of Mani Tese is above all a commitment to justice. We are convinced that

poverty and inequalities are the result of precise historical causes and of the maintenance of the current economic model.

 

 
Sobriety and sustainable lifestyles




Values 

and practicing

 

sobriety are important signs of sharing for those

excluded. Moreover, it is a necessary

 

social choice

 

for a sustainable economic, political and environmental development.

 
Solidarity and social equality




The

 

eradication of inequalities and poverty is a necessary condition for social development and it must be

 

pursued through lively exchange relationships with associations, communities and grassroots movements in the North and South of the world.

 

 
Nonviolence




Mani Tese believes in the strength of nonviolence as a new path towards economic and social development and as an

 

efficient method of action to achieve real and shared changes.

 

 

Cooperation and sustainability




These are 

the 

two key words in Mani Tese

's

 action strategy, closely linked together

 

as part of the same process, which

interconnects projects in the South of the world with a commitment in the

North

to

lead a profound change in society.
OUR ETHICAL CODE 

Ex. DL 231/2001
For Mani Tese, the observance of ethical values,  such as honesty, loyalty, correctness, accountability and compliance with laws, is extremely important.  
Regarding its specific mission, Mani Tese joins the values  defined in the Ethical Charter of the Association of Italian NGOs - AOI, and promotes:  
Social justice, 

equity

 and respect for human rights

 

 

The participation of the populations for which it works

 

 

The involvement of

 

civil society 

in 

development

 

cooperation

 

Environmental protection and food sovereignty

 

 
The pursuit of these values  takes place through:  
Workplace professionalism

 

 

 

Increase in the capacity of basic structures 

 

 

The strengthening of

 

especially disadvantaged social groups

 

 

Working 

to eliminate gender disparities

Using appropriate fundraising methods, according to

 

the aims of the association and current legislation

Carrying out actions whose effect lasts over time

The commitment to global citizenship education activities

Using our abilities

 

to foster collaboration between different sectors of society

 

 
OUR STATUTE
Check out and learn more about our Statute.
To know more
Hi! I am Sara de Simone and I am Mani Tese's President since 25 November 2018.    From 2015 until 2018, I was Mani Tese's Vice-president. My history within Mani Tese began in 2004, when I was in high school and I was involved in a Development Education course on the exploitation of child work and children rights. After having attended this course, I decided to become a Mani Tese's volunteer in Naples. Throughout the years, I worked […]